Brahna Yassky
NYRS, Licensed Associate Real Estate Broker
byassky@bhsusa.com
212-906-0506 c: 917-402-2923
Languages Spoken: SPANISH, ENGLISH
Brahna Yassky has been selling real estate since 1999. She is a Licensed Associate Real Estate Broker with Brown Harris Stevens in the Tribeca office. A native New Yorker Brahna is familiar with and has sold real estate in all parts of the city but specializes in downtown.
Brahna was a pioneer when she purchased her loft in Tribeca in 1979. She is still involved in the neighborhood as a mother, an artist and a real estate broker. She has enjoyed a successful career as a painter and her work has been shown in numerous galleries and museums including the Museum of Modern Art.
In 2006, once again motivated by the pioneer spirit, she purchased an apartment in the financial district.
With her background in art and her visual skills, she takes a creative approach to evaluating and marketing a property. Having worked as a set designer enables her to visualize any kind of space and see its potential.
She enjoys making the perfect match between a property and a person. As one seller wrote in a letter of thanks, "Brahna's sensitivity to those aspects of the client relationship is central to her professionalism… I selected Brahna Yassky because of a certain character reference from one recommendation, specifically pointing to that extra quality of sensitivity and care that is part of Brahna's usual professionalism."
Additionally she has personal experience knowing what it's like to be on the seller's side as well as on the purchaser's side. She is expert at guiding a seller or purchaser smoothly from the beginning of the transaction through a successful closing. A member of the Real Estate Board of New York and an alumni member of FIABCI, an international real estate organization, she is in valuable communication with a network of real estate brokers all over the country and around the world. Brahna has the special designation of New York Real Estate Specialist (NYRS) which is earned by top brokers in the city qualified by their knowledge and performance.
Brahna has degrees from California College of Arts and Crafts and San Francisco State University.
In the News
43 North Moore Street
New York, NY 10013
Brown Harris Stevens Residential Sales, LLC
Brahna Yassky ha vendido bienes raíces desde 1999. Es Corredor Asociado de Brown Harris Stevens en la oficina del centro de la ciudad. Nacida en Nueva York, Brahna está familiarizada con todas las zonas de la ciudad pero se especializa en el centro de la ciudad, en especial Greenwich Village y Tribeca.
Brahna fue pionera cuando compró su piso en Tribeca en 1979, donde aún vive. Está involucrada en el vecindario como madre, artista y corredora de bienes raíces. Ha disfrutado de una exitosa carrera como pintora y su trabajo se ha exhibido en numerosas galerías y museos, incluido el Museo de Arte Moderno.
Con sus antecedentes en arte, Brahna aplica un enfoque creativo al evaluar y promover una propiedad. Sus habilidades visuales le ayudan a comercializar propiedades. Su trabajo anterior como diseñadora de escenarios le permite visualizar cualquier tipo de espacio y ver su potencial.
Disfruta al lograr la compatibilidad absoluta entre una propiedad y una persona. Como lo describe un vendedor en una carta de agradecimiento, "La sensibilidad de Brahna a esos aspectos de la relación con el cliente son el punto central de su profesionalismo… Seleccioné a Brahna Yassky debido a cierta referencia sobre su carácter que recibí de la persona que la recomendó, señalando específicamente esa cualidad adicional de sensibilidad y cuidado que son parte del profesionalismo habitual de Brahna."
Adicionalmente, cuenta con experiencia personal en lo que significa estar del lado del vendedor así como del lado del comprador. Tiene amplia experiencia en guiar a un vendedor o comprador fácilmente desde el principio de la transacción hasta un cierre exitoso. Es miembro de la Cámara de Corredores de Bienes Raíces de Nueva York y miembro activo de FIABCI, una organización internacional de bienes raíces; adicionalmente, se mantiene en provechosa comunicación con una red de corredores de bienes raíces de todo del mundo.
Brahna cuenta con licenciaturas de la Universidad de Arte y Diseño de California y de la Universidad Estatal de San Francisco.
Brahna Yassky's Current Listings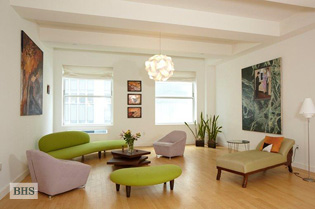 15 BROAD STREET CONDOMINIUM
$1,925,000
Bedrooms: 1
Bathrooms: 2.0
ID: 9011375
Brahna Yassky (212) 906-0506
The following is a list of selected sold properties in which Brahna Yassky has represented the seller, the buyer, or both:
COOPERATIVES AND CONDOMINIUMS
130 BARROW STREET, 302
15 BROAD STREET, 1210
15 BROAD STREET, 1510
15 BROAD STREET, 1628
15 BROAD STREET, 1628
15 BROAD STREET, 2116
15 BROAD STREET, 3500
15 BROAD STREET, 3600
176 BROADWAY, 9B/9C
515 BROADWAY, 4A
165 CHRISTOPHER STREET, 3O
416 EAST 11TH STREET, 3A
105 EAST 15TH STREET, 93
111 EAST 30TH STREET, 4C
5 EAST 3RD STREET, 3RD FL
5 EAST 3RD STREET, 5TH FL
150 EAST 85TH STREET, 9A
1 FIFTH AVENUE, 13D
24 FIFTH AVENUE, 632
152 FRANKLIN STREET, PH
295 GREENWICH STREET, 11E
321 GREENWICH STREET, 4
799 GREENWICH STREET, 6N
799 GREENWICH STREET, 6N
19 HUBERT STREET, 2
19 HUBERT STREET, 5TH FL
135 HUDSON STREET, 6F
61 JANE STREET, 10P
61 JANE STREET, 11K
27 NORTH MOORE STREET, 2C
6 VARICK STREET, 6A
23 WALL STREET, 1520
296 WEST 10TH STREET, 10
101 WEST 12TH STREET, 11P
25 WEST 13TH STREET, 3E/S
10 WEST 15TH STREET, 1028
447 WEST 18TH STREET, 7D
129 WEST 20TH STREET, 2C
555 WEST 23RD STREET, S4P
555 WEST 23RD STREET, S9J
20 WEST 64TH STREET, 22C
36 WEST 84TH STREET, 8A
69 WEST 9TH STREET, 4K
260 WEST BROADWAY, 4C
30 WEST STREET, 14B
TOWNHOUSES