Mara Papasoff
Senior Vice President, Managing Director
Licensed Associate Real Estate Broker
mpapasoff@bhsusa.com
212-906-0511 c: 917-855-3583
Mara Papasoff has earned the distinguished Brown Harris Stevens Residential Sales, "Downtown Broker of the Year" top sales production honor five out of the past seven years including 2005. She joined the firm in 1999 and has consistently ranked as one of the firm's top brokers company wide. She is a highly respected expert in the Manhattan real estate marketplace, known for her professionalism, integrity, patience and discretion.
Mara's professional experience in the field has spanned approximately twenty years. In addition to the listing and selling of high-end luxury apartments, lofts, townhouses and investment properties she has enjoyed great success as the Director of Sales for a number of exciting, residential development projects. These include The Roebling Building in Tribeca and The Bank in the West Village. She has also been named the Director of Sales for 72 Mercer Street, a nine unit luxury condominium loft development in SoHo with projected sales of approximately $40 million dollars.
Her superior negotiating skills, calm perseverance and vast knowledge of the marketplace have enabled her to broker some of Manhattan's most prestigious properties. An overwhelming majority of her business comes via referral through her loyal buyers and sellers, attorneys, and other real estate brokers throughout the world. She is an active participant in the Christie's Great Estates Program of which Brown Harris Stevens is the exclusive affiliate in New York City, Palm Beach and the Hamptons. It is the world's largest and most prestigious network specializing in the sale of luxury real estate.
Mara studied art and theatre in college and traveled extensively throughout Europe. She went on to earn a Master of Arts Degree in Theatrical Stage Design, a talent that has been of enormous benefit to her in the field of residential development and sales. In the metamorphosis from the blank canvas of the undeveloped property to stunning residential living spaces, she provides her clientele with a highly developed and imaginative vision of the possibilities for each particular property.
Mara serves as the President of the Board of Directors of her Greenwich Village co-operative residence. She is a Senior Vice President of Brown Harris Stevens Residential Sales and is also an active member of the Real Estate Board of New York.
2 Fifth Avenue
New York, NY 10011
Brown Harris Stevens Residential Sales, LLC
Mara Papasoff's Current Listings
650 SIXTH AVENUE CONDOMINIUM
$2,595,000
Bedrooms: 2
Bathrooms: 2.0
ID: 3961031
Mara Papasoff (212) 906-0511
Micole S. Joory (212) 906-0513
WEST BROADWAY RENTAL
$17,000
Bedrooms: 3
Bathrooms: 2.5
ID: 4061181
Mara Papasoff (212) 906-0511
Micole S. Joory (212) 906-0513
Listings Currently In Contract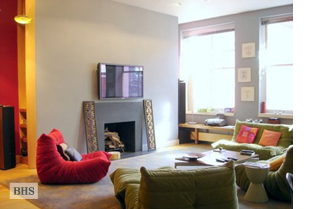 77 MERCER STREET CONDOMINIUM
$2,650,000 - Contract Signed
Bedrooms: 2
Bathrooms: 2.0
ID: 3217600
Mara Papasoff (212) 906-0511
The following is a list of selected sold properties in which Mara Papasoff has represented the seller, the buyer, or both:
COOPERATIVES AND CONDOMINIUMS
300 ALBANY STREET, 3F
300 ALBANY STREET, 3F
40 BOND STREET, 9A
366 BROADWAY, 10D
476 BROADWAY, 8R
476 BROADWAY, 8F
240 CENTRE STREET, 4R
16 CROSBY STREET, 3F
38 CROSBY STREET, 11R
45 CROSBY STREET, 4N
15 EAST 10TH STREET, 3B
15 EAST 10TH STREET, 1F
15 EAST 10TH STREET, 6D
114 EAST 13TH STREET, 6B
39 EAST 20TH STREET, 7/8FL
39 EAST 20TH STREET, 8FL
39 EAST 20TH STREET, 7FL
172 EAST 4TH STREET, 10D
40 EAST 9TH STREET, 11F
77 EIGHTH AVENUE, 303
105 FIFTH AVENUE, 10E/9E
11 FIFTH AVENUE, 3CD
208 FIFTH AVENUE, 7W
51 FIFTH AVENUE, 11A
32 GRAMERCY PARK, 9B
140 GRAND STREET, 3WF
51 GREENE STREET, 4TH FLOOR
505 GREENWICH STREET, 7H
92 HORATIO STREET, 5A
27 HOWARD STREET, 4TH FLOOR
27 HOWARD STREET, 5
169 HUDSON STREET, 5S
169 HUDSON STREET, 6S
169 HUDSON STREET, 6N
169 HUDSON STREET, 5N
169 HUDSON STREET, 4N
169 HUDSON STREET, PH7/8S
169 HUDSON STREET, COML N
169 HUDSON STREET, PH7/8N
195 HUDSON STREET, 4A
382 LAFAYETTE STREET, 4TH
72 MERCER STREET, 5W
72 MERCER STREET, 2E
72 MERCER STREET, 2W
72 MERCER STREET, 3W
72 MERCER STREET, 4E
72 MERCER STREET, 4W
72 MERCER STREET, PHE
72 MERCER STREET, PHW
1 MORTON SQUARE, 9DW
43 MURRAY STREET, 3
9 MURRAY STREET, 12SW
29 PERRY STREET, 5R
60 SUTTON PLACE SOUTH, 4ES
101 WARREN STREET, MNHT, 1010
89 WASHINGTON PLACE, 2M
527 WEST 110TH STREET, PH94
300 WEST 14TH STREET, 201
300 WEST 14TH STREET, PH501
16 WEST 16TH STREET, 12NS
201 WEST 16TH STREET, 16B
201 WEST 16TH STREET, 10G
201 WEST 16TH STREET, 16D
332 WEST 19TH STREET, PHA
525 WEST 22ND STREET, 2A
436 WEST 23RD STREET, C
529 WEST 42ND STREET, 4TH FLOOR
11 WEST 69TH STREET, 2D
135 WEST 70TH STREET, 3E
166 WEST 76TH STREET, 1E
267 WEST 89TH STREET, 8A
345 WEST BROADWAY, 6FL
141 WOOSTER STREET, 6C
80 WOOSTER STREET, 7FL
TOWNHOUSES
237 EAST 18TH STREET
449 HUDSON STREET
35 SPRING STREET
53 WEST 68TH STREET