Norah Burden
Vice President, Director
Licensed Associate Real Estate Broker
nburden@bhsusa.com
212-588-5617
Norah Burden, a Vice President / Director and Associate Broker, joined Brown Harris Stevens after 22 years of immersion in the art and philanthropic worlds of New York City. She merges integrity, focus and spirited enthusiasm with an in depth personal understanding of what creates quality and luxury in a Manhattan residence.
Prior to joining Brown Harris Stevens she enjoyed a long career as a freelance illustrator with work published internationally in magazines and books; she successfully launched her own line of children's clothing; and did extensive volunteer work and fundraising for The New York Public Library, PENCIL, and New Yorkers for Children. She continues to give a great deal of creative energy to Hunter College Campus Schools where her two children attend.
Having graduated from the School of Visual Arts, after attending the Philadelphia College of Art, Norah has developed a keen eye for art and architecture. These interests have taken her throughout Europe and the Americas and have brought her as far as China and India where she has traveled extensively. Norah has had years of personal experience restoring and renovating co-ops, condos, single family town homes and managing income producing property in Manhattan, giving her a unique perspective into her client's needs and interests when considering the sale or purchase of a significant Manhattan property. An avid gardener, she is currently undertaking the restoration of an historic Hudson River House and its grounds in Rhinebeck, New York.
As a member of the Real Estate Board of New York, Norah is committed to the highest standards of professionalism and discretion. Among the buyers and sellers that make up her loyal following she is known for her warmth, humor, intelligence and disarming honesty and forthrightness. Her passion for this city, its people and her inherent understanding of the experience of dealing with a major investment in real estate, make her an ideal broker in service to her clients.
In the News
1926 Broadway
New York, NY 10023
Brown Harris Stevens Residential Sales, LLC
Listings Currently In Contract
215 EAST 73RD STREET COOPERATIVE
$3,295,000 - Contract Signed
Bedrooms: 3
Bathrooms: 2.0
ID: 1742954
Norah Burden (212) 588-5617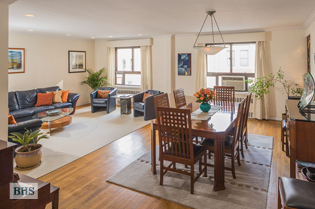 316 WEST 84TH STREET COOPERATIVE
$2,150,000 - Contract Signed
Bedrooms: 4
Bathrooms: 3.5
ID: 3655188
Norah Burden (212) 588-5617
The following is a list of selected sold properties in which Norah Burden has represented the seller, the buyer, or both:
COOPERATIVES AND CONDOMINIUMS
2840 BROADWAY, 6G
41 CENTRAL PARK WEST, 11AFG
41 CENTRAL PARK WEST, 11D
136 EAST 36TH STREET, 2C
138 EAST 36TH STREET, 2B
138 EAST 36TH STREET, 3B
130 EAST 67TH STREET, 10/11C
10 EAST 70TH STREET, 4A
215 EAST 73RD STREET, PHA
215 EAST 73RD STREET, PHB
180 EAST 79TH STREET, 18A
60 EAST 88TH STREET, 11A
60 EAST 88TH STREET, 11FL
160 EAST 91ST STREET, 4N
1060 FIFTH AVENUE, 12A
200 RECTOR PLACE, 21A
222 WEST 14TH STREET, 11D
15 WEST 17TH STREET, 10FLR
31 WEST 21ST STREET, 11PH
44 WEST 62ND STREET, 8ABC
10 WEST 66TH STREET, 21A
160 WEST 66TH STREET, 25D
160 WEST 66TH STREET, 49C
160 WEST 66TH STREET, 52A
127 WEST 79TH STREET, 10A/K
316 WEST 84TH STREET, 1AB
316 WEST 84TH STREET, MEZZ AB
160 WEST END AVENUE, 16C
170 WEST END AVENUE, 21T
277 WEST END AVENUE, 9E
450 WEST END AVENUE, 18C
TOWNHOUSES
316 EAST 3RD STREET
345 WEST 121ST STREET
416 WEST 20TH STREET