Rina I. Schafman
Licensed Associate Real Estate Broker
rschafman@bhsusa.com
212-906-9220 c: 917-374-0043
Languages Spoken: FRENCH, ENGLISH
Top producing broker Rina Schafman has more than twenty-six years' experience in the complex and challenging world of New York residential real estate. She joined Brown Harris Stevens in 1989 and specializes in the sale of cooperatives, condominium apartments, and townhouses.
Throughout the years, she has successfully completed residential sales transactions representing sellers and buyers in top buildings throughout the City. She began her career in real estate in New York with a major firm where she first became a top producing broker (who conducted very successful broker training programs) and then Executive Vice President, Sales Manager.
Through her experience in residential sales, Rina has carefully developed a network of referrals to expand her marketing impact. She uses her negotiation skills to achieve the real estate goals of her clients who consider Rina their trusted expert, and Rina is the Brown Harris Stevens Broker Specialist for a top Park Avenue building. Rina's knowledge of the market is an asset to her clients.
She is fluent in French and she is a member of The Real Estate Board of New York. Rina Schafman holds a BA degree in Art History. The owner of a cooperative apartment on the Upper East Side, she is a dedicated, diehard New Yorker and has traveled extensively throughout the world.
445 Park Avenue
New York, NY 10022
Brown Harris Stevens Residential Sales, LLC
Rina Schafman a travaillé chez Brown Harris Stevens depuis 1989 en tant que directrice et agent associé, se spécialisant dans la vente de logements en coopérative, d'appartements en copropriété et de maisons de ville.
Elle a commencé sa carrière dans l'immobilier dans l'une des principales sociétés d'immobilier de la ville de New York, elle y assumera les fonctions de vice-présidente directrice, de responsable des ventes et sera l'un des agents obtenant les meilleurs résultats. Elle a également dirigé un programme de formation des agents immobiliers qui sera couronné de succès.
Du fait de son expérience dans la vente de propriétés de type résidentiel, Rina a pu développer un réseau de contacts, de références et un carnet d'adresses qui ont considérablement augmenté son potentiel au niveau marketing. Ayant à cœur d'appliquer ses compétences de négociatrice à la finalisation des transactions, tant au profit des vendeurs qu'à celui des acheteurs, elle a pu conclure la vente de logements résidentiels dans de nombreux immeubles de haut de gamme de la ville.
Rina Schafman a une licence ès arts en histoire de l'art et maîtrise parfaitement le français. Elle possède un appartement en coopérative dans le quartier est supérieur, c'est une new-yorkaise pure et dure et elle a voyagé dans le monde entier.
Rina I. Schafman's Current Listings
30 EAST 72ND STREET COOPERATIVE
$6,485,000
Bedrooms: 4
Bathrooms: 3.5
ID: 3898917
Rina I. Schafman (212) 906-9220
Listings Currently In Contract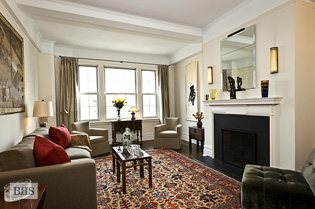 164 EAST 72ND STREET COOPERATIVE
$2,350,000 - Contract Signed
Bedrooms: 2
Bathrooms: 2.0
ID: 1188650
Rina I. Schafman (212) 906-9220
The following is a list of selected sold properties in which Rina I. Schafman has represented the seller, the buyer, or both:
COOPERATIVES AND CONDOMINIUMS
62 BEACH STREET, 6E
2000 BROADWAY, 6I
120 CENTRAL PARK SOUTH, PH/22
1 CENTRAL PARK WEST, 29C
25 CENTRAL PARK WEST, 10K
211 CENTRAL PARK WEST, 4J
330 EAST 38TH STREET, 32E
240 EAST 47TH STREET, 18B
240 EAST 47TH STREET, 18B
333 EAST 57TH STREET, 15B
40 EAST 61ST STREET, 14A
40 EAST 61ST STREET, 19B/20B
26 EAST 63RD STREET, 2B
26 EAST 63RD STREET, 2B
340 EAST 64TH STREET, 27D
340 EAST 64TH STREET, 34C
181 EAST 65TH STREET, 23C
250 EAST 65TH STREET, 8D
44 EAST 67TH STREET, 4D
150 EAST 69TH STREET, 6F
200 EAST 69TH STREET, T5F
50 EAST 72ND STREET, 4C
125 EAST 72ND STREET, 5F
164 EAST 72ND STREET, 12B
320 EAST 72ND STREET, 15A
422 EAST 72ND STREET, 18D
524 EAST 72ND STREET, 24C
157 EAST 74TH STREET, 10B
40 EAST 78TH STREET, 11H
40 EAST 78TH STREET, 4E
40 EAST 78TH STREET, 4E
308 EAST 79TH STREET, 12A
40 EAST 80TH STREET, 22A
525 EAST 80TH STREET, PHA
163 EAST 81ST STREET, 6D
18 EAST 84TH STREET, 4A
55 EAST 86TH STREET, 10B
55 EAST 86TH STREET, 10B
47 EAST 87TH STREET, 3D
120 EAST 87TH STREET, P28C
120 EAST 87TH STREET, R10H
120 EAST 87TH STREET, R6Q
120 EAST 87TH STREET, R8P
170 EAST 87TH STREET, W16F
40 EAST 94TH STREET, 3FG
40 EAST 94TH STREET, 3FG
180 EAST END AVENUE, 11D
641 FIFTH AVENUE, 23B
641 FIFTH AVENUE, 38F
641 FIFTH AVENUE, 38F
721 FIFTH AVENUE, 47H
860 FIFTH AVENUE, 2G
880 FIFTH AVENUE, 6L
923 FIFTH AVENUE, 7/8D
955 FIFTH AVENUE, 8B
956 FIFTH AVENUE, 14B
1040 FIFTH AVENUE, 7/8C
1060 FIFTH AVENUE, 10C
1067 FIFTH AVENUE, 14FLR
630 FIRST AVENUE, 33S
480 PARK AVENUE, 5A
550 PARK AVENUE, 3E
650 PARK AVENUE, 12E
650 PARK AVENUE, 18B
715 PARK AVENUE, 18B
875 PARK AVENUE, PH
888 PARK AVENUE, 11A
900 PARK AVENUE, 26DE
910 PARK AVENUE, 12S
930 PARK AVENUE, 11S
935 PARK AVENUE, 16A
940 PARK AVENUE, 11B
941 PARK AVENUE, 10/11A
960 PARK AVENUE, 10B
983 PARK AVENUE, 12B
1040 PARK AVENUE, 2F
1065 PARK AVENUE, 27A
1065 PARK AVENUE, 6B
1070 PARK AVENUE, 16D
1075 PARK AVENUE, 7C
25 SUTTON PLACE, 4
2 SUTTON PLACE SOUTH, 12E
25 SUTTON PLACE SOUTH, 18C
45 SUTTON PLACE SOUTH, 15J
60 SUTTON PLACE SOUTH, 6G
845 UNITED NATIONS PLAZA, 39C
860 UNITED NATIONS PLAZA, 9F
416 WASHINGTON STREET, 5I
146 WEST 57TH STREET, 68C
30 WEST 61ST STREET, 24E
43 WEST 61ST STREET, 14G
161 WEST 61ST STREET, 18H
161 WEST 61ST STREET, 4D
119 WEST 71ST STREET, 5A
250 WEST 94TH STREET, 6C
617 WEST END AVENUE, 4B
TOWNHOUSES
181 EAST 80TH STREET
181 EAST 80TH STREET
181 EAST 80TH STREET
59 EAST 82ND STREET