Liz Dworkin
NYRS, Licensed Associate Real Estate Broker
ldworkin@bhsusa.com
212-906-0509 c: 917-439-6769
Liz Dworkin serves as one of downtown's consistently top producing agents. Born and raised in upstate New York, Liz has lived in New York City for the past 30 years. She is an expert in the downtown luxury real estate market, having sold many townhouses and small commercial buildings. Liz's direct, honest and loyal approach is what draws clients. She possesses the ability to bring clarity to a deal for both buyers and sellers while ensuring they feel confident and comfortable throughout the process. This reassurance is what keeps clients coming back and referring friends.
Prior to her career in real estate, Liz taught art for 25 years at colleges including The Massachusetts College of Art, Brown University, Princeton, Rhode Island School of Design and many others. With a degree in Fine Arts from Cornell, Liz pursued a career as a painter, widely exhibiting her art in New York and beyond. Although she continues to practice in the studio, her real estate career has become her professional focus. It is her artistic sense that gives her the eye for unique architectural virtues. Liz's appreciation for old, unusual and classic architecture enables her to market even the most difficult to sell properties.
In addition to perusing her passion for art, Liz enjoys biking and exploring the different neighborhoods the city has to offer. She appreciates the variety within each block that adds to the vibrancy and beauty of so many New York streets.
2 Fifth Avenue
New York, NY 10011
Brown Harris Stevens Residential Sales, LLC
Liz Dworkin's Current Listings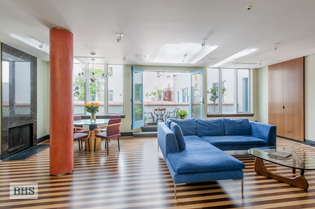 125 EAST 12TH STREET CONDOMINIUM
$4,450,000
Bedrooms: 3
Bathrooms: 2.5
ID: 9089285
Liz Dworkin (212) 906-0509
The following is a list of selected sold properties in which Liz Dworkin has represented the seller, the buyer, or both:
COOPERATIVES AND CONDOMINIUMS
970 KENT AVENUE, 201
970 KENT AVENUE, 205
66 MADISON AVENUE, 2B
265 WATER STREET, 5
170 WEST END AVENUE, 27K/L
TOWNHOUSES
143 ALLEN STREET
62 BANK STREET
63 BARROW STREET
97 BARROW STREET
73 BEDFORD STREET
146 BEEKMAN STREET
6 CENTRE MARKET PLACE
47 CHARLES STREET
23 CHRISTOPHER STREET
15 CLEVELAND PLACE
325 EAST 17TH STREET
304 EAST 30TH STREET
325 EAST 50TH STREET
343 EAST 9TH STREET
211 FRONT STREET
452 GREENWICH STREET
739 GREENWICH STREET
805 GREENWICH STREET
613 HUDSON STREET
619 HUDSON STREET
188 TENTH AVENUE
25 VANDAM STREET
277 WATER STREET
124 WAVERLY PLACE
317 WEST 13TH STREET
436 WEST 18TH STREET
360 WEST 19TH STREET
438 WEST 20TH STREET